Feminine Valentine Gift Collection 1
Includes:
Amber Bergamot Essential Candle, 8.5 oz - 45 hour burn time

White glaze scalloped ceramic bowl
Hand blown blush bud vase

Hibiscus Rose Geranium Essential Oil Bar Soap

Floral Matches
Beautifully boxed with silk or double face satin ribbon.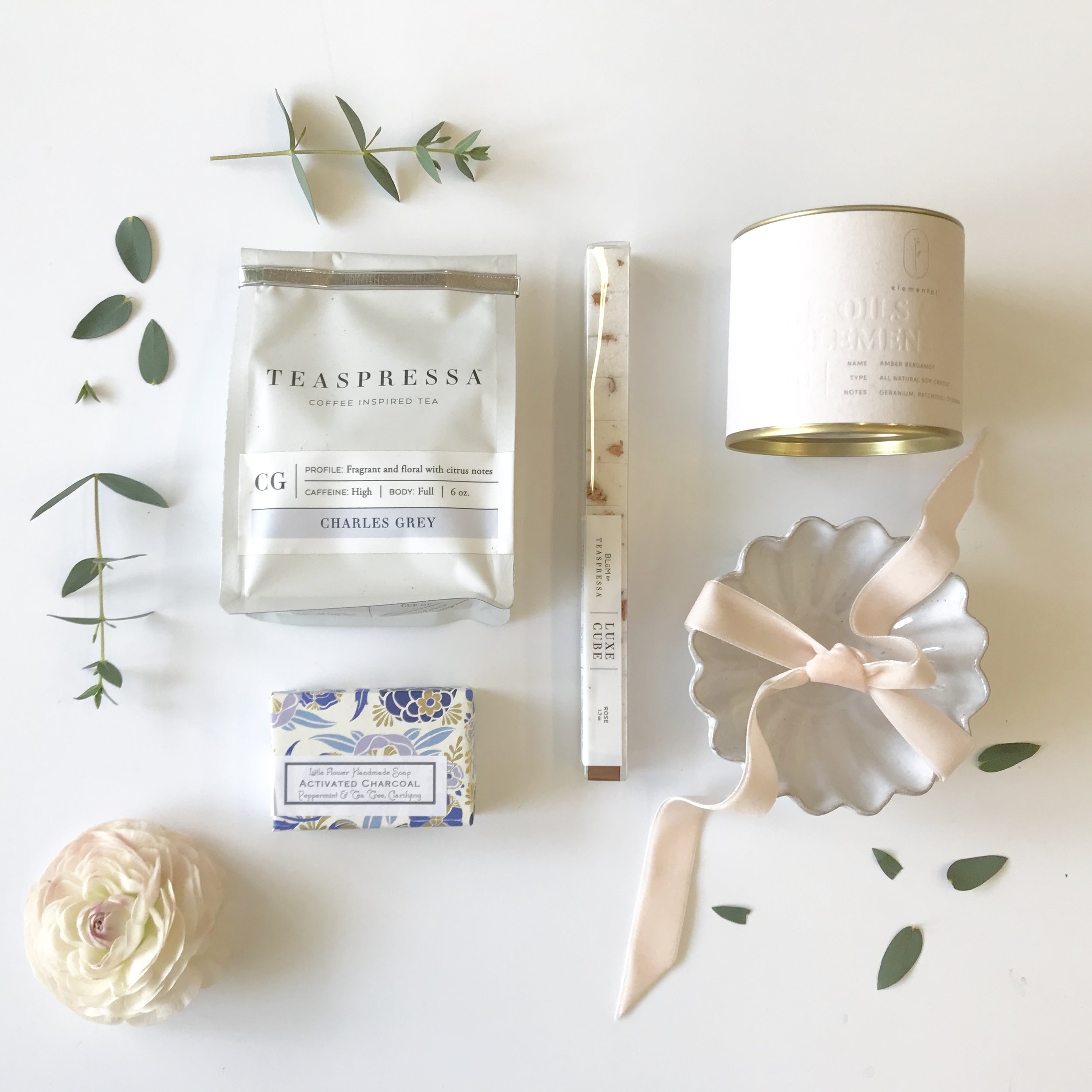 Feminine Valentine Gift Collection 2
Includes:
TEAspressa Charles Grey Loose Tea, Pouch

TEAspressa Luxe Sugar Stick

Amber Bergamot Natural Tin Candle, 8.5 oz - 45 hour burn time

White glaze scalloped edge ceramic bowl

Activated Charcoal (with Peppermint & Tea Tree Oil) Soap Bar
Beautifully boxed and finished with velvet ribbon
Floral Bath Bombs
Includes:
Five (5) 2 oz. essential oil aromatherapy bath bombs beautifully packaged in a french macaron box with with ribbon. Scents include: Lavender, Lemongrass, Eucalyptus, Pink Grapefruit, and Rosewood
"Cozy and Sweet" Collection
Includes:
White glaze ceramic mug

"Note To Self" Lined Journal (choose Navy, Light Blue, Hunter, or Light Pink)

Caramels (Choose from Classic Vanilla, Tapped Maple, or Black Lava Sea Salt)
Packaged in a white box with a complimenting ribbon.
Valentine Gift Collection - Love
Includes:
Tonka Noir Candle, 3 oz Demi Tin

"This deliciously urbane scent elevates comfort to an art form. Juicy mandarin, rose essence and night-blooming jasmine blend with inky tonka bean, salted musk, creamy sandalwood and smoky Madagascar vanilla."

BURN TIME: 20 Hours

"Love" Ring Dish: Glazed ceramic dish with gold calligraphy "love"

Floral Match Box: 4 1/4 matchbox with safety.
Beautifully packaged and finished with double face satin ribbon.
Important Details
All arrangements and vases are Designer's Choice and may vary from images above. Delivery is available on Valentine's Day with any order of $30 or more. Delivery address must be located within a 10 mile radius of downtown Greer, South Carolina. Please select from one of the two delivery windows below. If the recipient is not home at the time of delivery, the arrangement will be left at the front door and a picture will be texted to you to confirm the fulfillment of your order..
Pick-up at Urban Petals
Wednesday, February 13: 10:30 am - 7 pm

Thursday, February 14: 10 am - 7 pm
Delivery on Thursday, February 14
10 am - 1 om

2 pm - 5 pm

Delivery Fee: $15